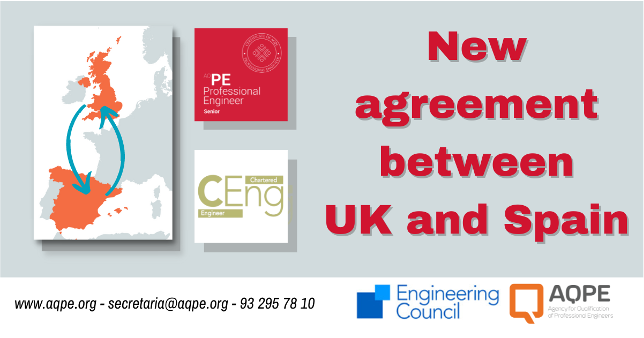 Since the beginning of our activity, one of our main challenges has been to find effective ways to facilitate the mobility of engineers beyond our borders. Therefore, we conceived the Professional Engineer certification as a future link between the other certifications in Europe, together with the other advantages of accreditation of professional competences.
The practice of certifying engineers' skills has a long tradition in the United Kingdom, dating back to the 19th century. In this country, the importance of this practice has been understood for over 200 years, helping to make visible the skills of committed professionals who wish to take their careers to new levels.
We are therefore pleased to announce our recent agreement with the Engineering Council, the UK's engineering skills certification body, seeking more direct validation between our qualifications. The similarities we share in our certification processes, based on the UK-SPEC standard, help us to offer direct recognition of Professional Engineer certification for Spanish engineers wishing to increase their career opportunities in the UK. In this way, we seek to minimize as much as possible any possible duplication in the process of accrediting competencies in the UK, while facilitating the recognition of professional skills in both jurisdictions.
Alasdair Coates, CEO of the Engineering Council, said: "Mutual recognition of professional registration between the UK and Spain is important, and this agreement provides assurance to registrants that recognition of their professional competence will continue. Engineering is a global profession and the aim of the Engineering Council's international activity is to ensure that our standards are recognized globally and to facilitate the international mobility of engineering professionals."
We celebrate seeing our mission to connect and create new career opportunities for engineers begin to be fulfilled, bringing tangible results for certified professionals with international ambition.
Learn more about the Engineering Council at https://www.engc.org.uk/
and about the Chartered Engineer at
https://www.engc.org.uk/professional-registration/the-professional-titles/chartered-engineer/
Take advantage of this agreement and apply for your certification. Start the process here: https://www.aqpe.org/#formulario